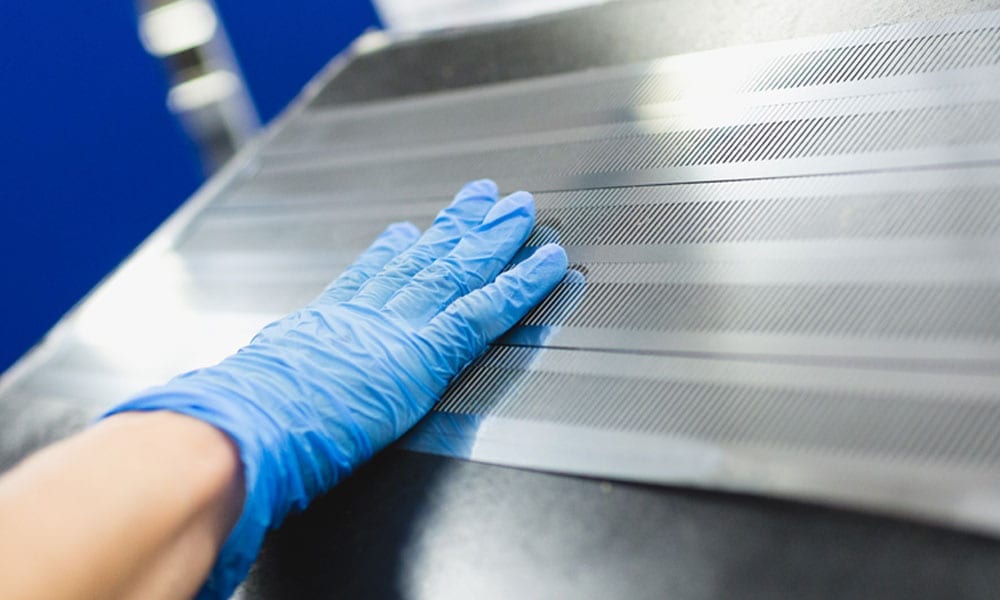 Because of its inherent attributes, titanium is the preferred material for many industrial applications, most notably the aerospace, chemical and medical sectors which rely on the materials strength-to-weight ratio, corrosion resistance and biocompatibility.
As chemical etching effectively chemically corrodes metal, titanium's corrosion resistance presents numerous challenges.
The oxide layer which provides titanium with its corrosion resistance cannot be etched with standard etch chemistry, namely ferric chloride, meaning an alternate approach is required.
There are two main approaches to the etching of titanium: replacing ferric chloride with hydrofluoric acid as the etching agent or electrolytic etching, a reverse plating process.
Etching titanium with hydrofluoric acid
Hydrofluoric acid (HF) has been used since to 1960s to etch glass, silicon, and titanium and is usually combined with another chemical to produce an etching or surface treatment solution.
The advantages of using HF are that it can be serialised, results in excellent quality components, can be applied to conventionally sized etch sheets, and is a proven process in industry.
Electrolytic etching of titanium
Electrolytic etching involves the use of a solution of an electrolyte, an anode, and a cathode to selectively remove the titanium by reverse plating.
While electrolytic etching is cheaper to set up and uses chemicals broadly classified as "safe" to use, the process is difficult to serialise as only smaller sheets can be used, and there is more chance of process variation which affects repeatability.
Which approach is best?
Given the growing global demand for chemical etching on a production scale, and the limited number of suppliers offering a titanium etching service, in 2014 Precision Micro assessed both methods of etching titanium, eventually opting for a HF based process due to the superior quality of the final components produced and greater ease of serialisation.
The main barrier to entry of this approach was cost, with specialist etching equipment required.
As one of the world's largest chemical etching suppliers, Precision Micro made a significant investment in plant and infrastructure to launch Europe's only purpose-built titanium etching line, guaranteeing security of supply.

The titanium etching process
Titanium etching works much like traditional chemical etching, the process steps summarised as follows:
Sheet titanium is cleaned then laminated with photoresist (a light-sensitive polymer)
The photoresist is exposed to UV-light, which transfers the CAD image of the component
Areas of unexposed resist are removed (developed) to reveal the raw titanium
The sheet is sprayed with hydrofluoric acid, selectively removing the unprotected titanium
The remaining photoresist is removed (stripped) to reveal the final etched component
What grades of titanium can be etched?
Almost any grade of titanium can be chemically etched, in thickness from 0.01mm to 1mm and in sheet sizes up to 600mm x 550mm.
The grades most typically etched are…
Grade 1
Grade 2
Grade 3
Grade 4
Grade 5
Benefits of chemical etching are also transferred, including…
Lead-times in days
Unlimited complexity – you only pay for the first hole
No hard tooling
Low-cost set-up and design iterations
Burr-and stress-free components
Accuracy to 

±

0.025mm
Find out more about our titanium etching service