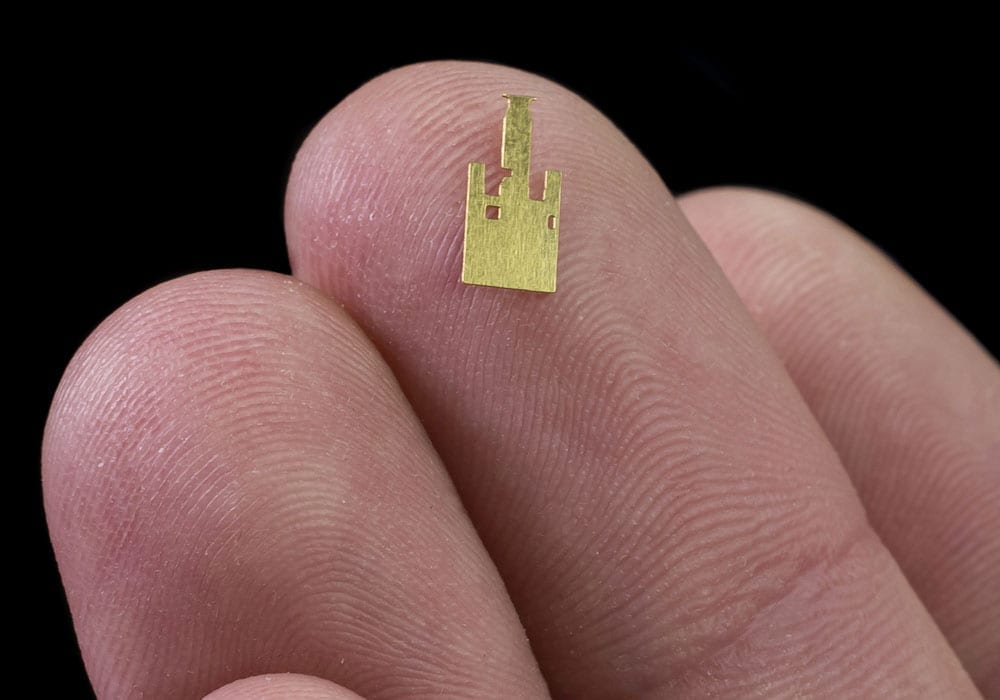 Precision Micro produces miniature diaphragms for leading Scandinavian microphone OEM
The drive towards miniaturisation throughout industry places increasing demands on the providers of technology and services solutions aimed at the manufacture of metal and plastic parts. OEMs demand stricter and stricter tolerances, repeatability, and above all accurately fabricated parts cost-effectively produced in volume. Many established fabrication processes struggle to keep pace with this demand, and in the area of precision metal parts, photo etching is fast becoming the "go-to" technology solution for numerous feature rich and complex applications where traditional processes fail to deliver. This article looks at the unique characteristics of photo etching and analyses its use in the manufacture of miniature microphones for a Scandinavian OEM.
Process choice
Many OEMs grappling with the manufacture of new products and applications end up benchmarking the various fabrication technologies that could provide a manufacturing solution and best fit the geometries of the part to be produced, the metal being processed, its thickness, the required quality of cut, and the speed with which the manufacturing operation needs to be completed.
There are some givens when it comes to process selection, Cost per part and quality are key and fairly universal drivers. When benchmarking technologies that are able to produce "precision" metal parts specifically, most OEMs consider that the viable alternatives are stamping, punching, laser cutting and the lesser known photo etching technique.
Photo etching is a metal processing technology that produces stress-free, flat, components by selective etching or corroding metal through a photo-resist mask. It is especially well suited to the manufacture of precision parts such as grids and meshes, lead frames, fuel cell and heat exchanger plates, precision springs, medical instruments and implants, and decorative parts such as automotive interior trim.
When compared with conventional production processes, it has a number of inherent advantages, key among which are the ability to produce parts without degrading material properties, the fact that there is almost no limit on part complexity, and the ability to process a huge range of metals including highly corrosive resistant titanium, and high temperature alloys, such as Inconel.
Reduced tooling costs and design freedom
When looking at conventional processing technologies, each suffers from a number of drawbacks, key among which is the degradation of the material being processed due to high impact, or in the case of laser cutting the use of intense heat. However, the other key differentiator is in the area of tooling, which can be illustrated by comparing photo etching to stamping. The tooling for photo etching is digital, so there is no need to start cutting expensive and difficult to adapt steel moulds. This means that large quantities of products can be reproduced with absolutely zero tool wear, ensuring that the first and millionth part produced are precisely the same.
Also, as the tooling is "virtual", it can be adapted and changed extremely quickly and economically, making it ideally suited for anything from prototype runs to high volume production runs. This allows for design optimisation without financial penalty, and helps ensure a low-risk entry strategy as well as facilitating easy product updating. Turnaround time using photo-tools is about 90% less than that for stamped parts. Stamping requires substantial investment in mould fabrication which is not only costly but in some instances can take from six to ten months to complete, compared with a few hours for etching.
The economy and adaptability of the tooling for photo etching is a key stimulus to design freedom, along with the ability to produce what may seem like impossibly complicated products. As the cost of creating prototypes is so low there is no barrier to entry with the technology, with complex designs being produced in a matter of days and design iterations in a few hours. Photo etching opens the door for innovation and pushes back the barriers that constrain many design engineers and allows for the manufacture of parts many thought impossible.
Complex part fabrication
Many of today's products are extremely complex and also very fragile. Indeed, in many instances, geometric complexity and the requirement for extremely exacting tolerances and precision mean that photo etching is not just "a" potentially desirable manufacturing process, but is, in fact, the "only" technology able to make certain products.
Typically, when stamping, part complexity adds cost, whether in low, medium, or high volume applications. The complexity of a product means the necessity for a complex mould tool, and complex tooling means increased costs, increased potential for tool failure, and increased lead-times for satisfactory completion. Photo etching is unaffected by the level of tool complexity, and it makes no difference in terms of costs or lead-time how complex the geometry of the part is and therefore the complexity of the digital tooling.
But photo etching has the ability to produce finer detail than conventional machining techniques, and all with minimal if any degradation and deformation of the metal being processed and little to no likelihood of burrs or defects. Failure rates are minute, and unlike in the stamping process, every part produced is absolutely flat, which in some application is vital.
Photo etching delicate microphone diaphragms
Precision Micro, Europe's leading photo etching company, works closely with a Scandinavian OEM specialising in miniature microphones.
Miniaturisation of microphones opens up huge possibilities in the entertainment industry allowing for creative expression in the musical and theatre industry and also throughout film and TV.
Designing microphones with optimal sound characteristics, exceptional consistency, and outstanding reliability is not easy, and as such Precision Micro's OEM customer draws on more than six decades of world-class microphone design experience, challenging industry standards and pushing innovation in the quest for superior sound reproduction.
Each microphone is assembled by hand at the company's state-of-the-art manufacturing facility. It takes at least 200 individual, hands-on steps to assemble a microphone, and during the process, each one is calibrated up to 15 times before final approval.
The huge attention to detail and precision in the manufacturing process makes supplier selection critical, and all metal parts used in the miniature microphones must be fabricated to exacting tolerances.
Precision Micro was chosen to photo-etch a selection of small diaphragms which vibrate millions of times in response to sound. These vibrations are converted into an electrical current which becomes the audio signal.
Each diaphragm is tiny, measuring around 4 mm x 6 mm long (necessary as in some microphone applications they are knitted into the wigs of actors), and are etched from 100 micron Sandvik stainless steel, formed, and gold plated.
Precision Micro etch in excess of 250,000 diaphragms per annum, and they are manufactured to extremely tight tolerances (+/- 20 microns) which are less than the industry standard minimum tolerance of +/- 25 microns.
Sandvik was chosen as the diaphragm needs to be able to flex in-situ, and because of this material integrity is absolutely critical. Although the part is too small to be manufactured by laser cutting, both it and the stamping process would induce degradation in the metal which is avoided through the use of photo etching.
As a hardened and tempered precision stainless steel, Sandvik offers many valuable properties. The chemical composition of the steel and the specially developed state-of-the-art hardening process give the material a unique combination of mechanical properties, flatness, and corrosion resistance. The excellent surface finish, the very low amount of non-metallic inclusions, and the high hardness ensure superior fatigue properties.
Sandvik is particularly well suited for etching precision products since the virtual absence of residual stresses enables the strip to maintain its shape throughout the etching process. The hardness of the steel means that stamping is often not a viable fabrication process for this material.
Conclusion
Precision Micro was chosen to fabricate the diaphragm in its OEM customer's microphones due to its expertise in photo etching, and also because of the unique characteristics of the process. In this application – in common with many others that Precision Micro work on – the overall integrity of the metal parts are vital, and the fact that photo etching induces no degradation in the metal being processed is a huge advantage. Add to this the exacting tolerances that can be achieved using photo etching, and the fact that it can be applied to virtually any metal, and it is unsurprising that the process is being seen as the go-to technology for the manufacture of precision metal parts.