What is titanium etching?
Titanium etching is a subtractive sheet metal machining process which uses specialist chemistry to profile complex, highly accurate titanium components. It offers a cost-effective alternative to stamping, laser and water jet cutting thin gauge titanium sheets or foils.
Precision Micro is one of the few chemical etching companies to offer a titanium etching service, and the only company in Europe accredited to ISO 13485 (medical devices) and AS 9100 (aerospace, defence and space) ensuring the quality, stability, reliability and repeatability of our titanium etching process.
How does titanium etching work?
First, sheet titanium is cleaned then laminated with photoresist, a light-sensitive polymer.
The photoresist is then exposed to UV-light which transfers the CAD image of the component.
Areas of unexposed resist are removed (developed) to reveal the raw titanium.
The sheet is sprayed with specialist etchant chemistry, selectively removing the unprotected titanium.
The remaining photoresist is removed (stripped) to reveal the final etched component.
Titanium etching benefits
Our market-leading titanium etching service comes with all of the existing benefits of chemical etching, including:
Low-cost digital tooling, which can be adapted or changed quickly allowing for risk-free design optimisation.
No mechanical force or heat is used during the process. This means that material properties are unaltered and etched components are flat and free from stress and burrs.
As component features are machined simultaneously almost limitless part complexity is achievable.
Typical applications
Etching opens up an array of possibilities for applications which require a combination of lightweight, strength, corrosion resistance and biocompatibility.
Cranial and dental implants benefit from burr-free openings. Complex aperture arrays and countersinks can be included at no additional cost.
Ultra-thin battery current collector grids used in pacemakers can be etched with ultra-fine wires, ensuring reliable energy supply from a smaller footprint.
Titanium foils used in satellite fuel tanks can be made thinner – from 0.010mm – and flatter for easier assembly.
Combining etching and diffusion bonding ensures complex cooling channels can be incorporated into plate heat exchangers at a fraction of the price of conventional machining or laser drilling.
Membranes used in hearing aids can be made thinner, stronger and more reliable.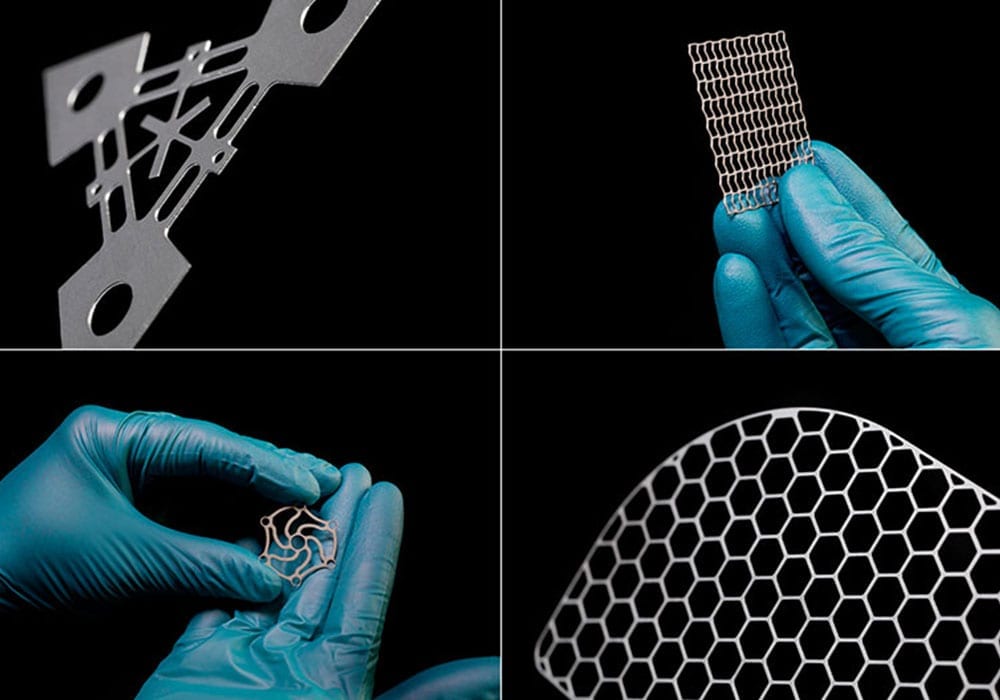 Materials
Commercially pure (grades 1-4)
Alloyed (grades 5-38)
Downloads