What is aluminium etching?
Aluminium etching uses a photoresist mask and chemical etchants to machine highly-accurate precision aluminium components.
The process uses easily re-iterated and low-cost digital tooling, providing a cost-effective and fast manufacturing alternative to traditional sheet metalworking technologies including stamping, laser and water-jet cutting.
Components which are etched from aluminium are burr- and stress-free, with clean profiles and no heat-affected zones.
How does aluminium etching work?
Aluminium etching vs. traditional machining
Aluminium and its alloys have always proved difficult to machine. Its ductility means it work-hardens when punched and heat reflectivity makes it challenging to laser cut.
Similarly, with etching, the process is not straightforward. Aluminium releases heat energy during etching, resulting in a rough, granular edge.
To achieve smooth, accurate etch profiles an innovative approach to etchant chemistry is required
Precision Micro has developed a proprietary method for etching aluminium and its alloys, producing edge profiles comparable to those etched in stainless steel and with greater accuracy.
Applications
Aluminium's lightweight means greater fuel efficiency and lower carbon emissions. As an AS 9100 and IATF 16949-accredited photo chemical etching supplier, Precision Micro specialises in photo etching aluminium components for automotive and aerospace applications.
Photo etched helicopter air intake grilles are lightweight and retain material properties during manufacture.
Heater plates stacked and used in aircraft dehumidifiers require multiple designs which can be set-up cost-effectively with etching and include smooth channels to improve air flow.
Compact, shaped heat exchanger plates can be etched with complex channel and pin arrays, reducing footprint and improving the thermal management of aircraft engines.
Aluminium car interior components such as dials, dashboard fascias and instrument covers are machined with high-definition logos, surface textures and profiles.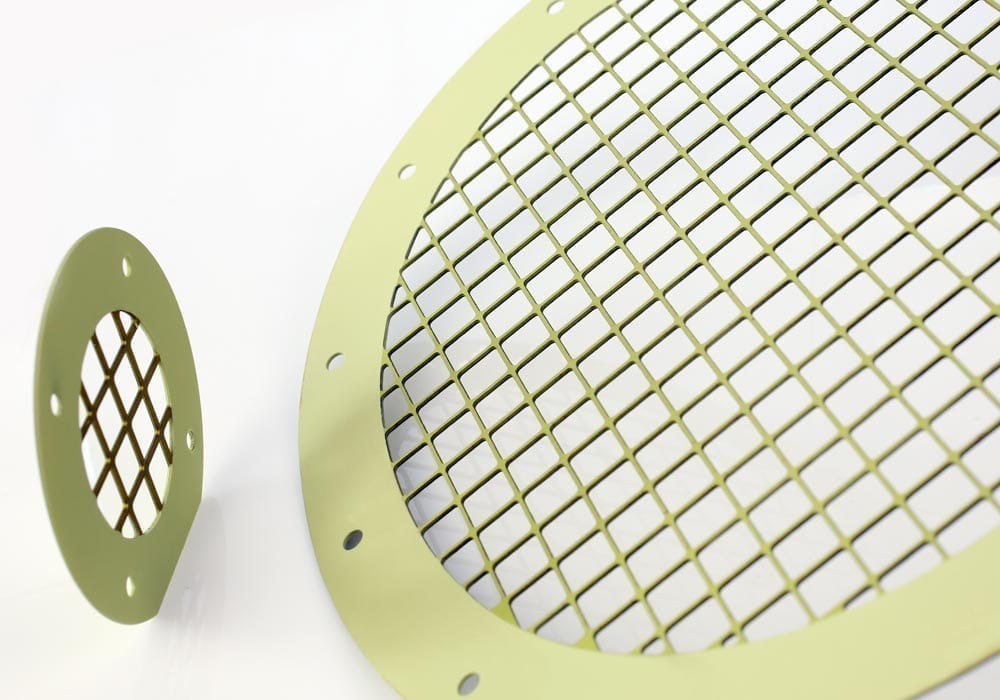 Materials
Aluminium – all grades
Aluminium bronze
Downloads