We manufacture a wide range of custom 2-D and 3-D chemically etched connectors and contacts, including contact springs, contact membranes, busbars, spring finger contacts and antennas.
Unlike presswork, our chemical etching service uses low-cost digital tooling, ensuring prototypes can be manufactured quickly and refined economically without the expense.
Etched connector materials
Connectors and contacts often need to operate in extreme environmental conditions, such as the human body, military jets or space satellites.
Our photo-etched connectors are stress- and burr-free, ensuring reliability, and can be specified from high-performance metals which offer excellent strength-to-weight ratio, biocompatibility and low coefficient of thermal expansion.
We can chemically etch connectors to ±0.025mm accuracy as standard – the quarter of a diameter of a human hair!
Forming and finishing
Our in-house press shop offers manual and semi-automatic precision forming using standard, modular and custom form tools.
Where possible, bend lines can be incorporated into etched connectors, removing the need for hard form tooling.
We also offer a range of post-process coatings to improve wear resistance and enhance conductivity, including gold, tin, silver, tin/lead and sulphur/nickel coatings.
Benefits at a glance
Low-cost digital tooling
Burr- and stress free – metal properties unaffected
Over 2,000 metal types – including hard to machine metals
Accuracy to ±0.020mm
In-house forming, finishing and plating
Lead-times in a few days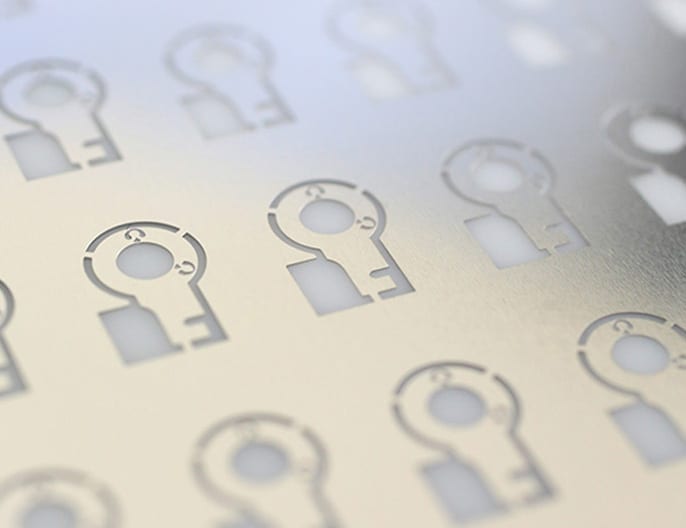 Typical Applications
Contact springs
Contact membranes
Busbars
Antennae and micro antennae
Spring finger contacts
Resistive heating elements
Battery terminals