We specialise in the manufacture of custom PCB shielding cans for a wide range of electronics applications, with almost 60 years of global PCB board level shielding supply.
→ Get in touch
EMI shielding, known by its full title of electromagnetic shielding, but also RFI shielding or EMC shielding, is the use of manufacturing techniques and materials to protect signals from disruption from external electromagnetic signals, alongside preventing generated signals from interfering with the components installed around it.
For shielding on PCBs (known as Board Level Shielding or BLS) shielding normally comes in the form of a PCB shield can or enclosure produced from a conductive or magnetic material to isolate electrical devices from their surroundings.
Though EMI/RFI shield cans can be manufactured in a variety of ways, our market-leading shielding can photo etching service offers many distinct advantages which improve functionality and lower cost.
Benefits of etching EMI/RFI Shielding at PCB level
Low set-up costs & fast delivery
We use low-cost digital tooling, reducing time-to-market. Delivery can be from as little as a few days, and even quicker for urgent requirements.
Complexity without cost
With chemical etching, there is no limit to profile complexity or aperture array.
We can incorporate bend lines so EMI shield cans can be formed by hand, removing the need for hard form tooling, and add part numbers or logos at no additional cost.
RF shield can materials and finishing
Nickel silver is the most cost-effective material choice for RFI shield cans as it can be soldered, will not oxidise and requires no additional plating.
Standard materials such as brass and mild steel are also available from stock, as well as in-house forming, assembly, spot welding, and tin, silver, nickel and gold plating.
Benefits at a glance
Low-cost tooling
Fast delivery
No limit to screening can complexity or aperture array
Bend lines, part numbers and logos at no additional cost
In-house forming & finishing
Nearly 60 years of PCB shielding can supply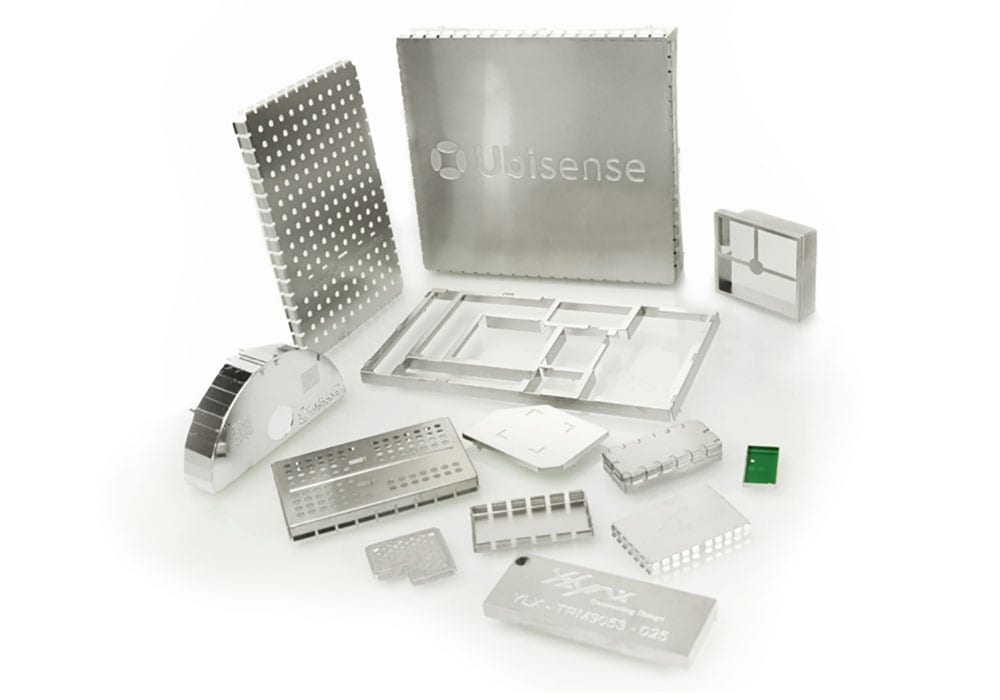 Typical Applications
One-piece shielding cans
Two-piece shielding cans with removable lids
Labyrinth (multi-compartment) shielding cans
EMC enclosure shields
Processes
Materials
Tin plated mild steel
Brass
Hymu
Nickel