We offer a market-leading bipolar plate manufacturing service, working in collaboration with leading sustainable energy providers developing fuel cells and electrolysers for mobility, power, heat and more.
→ Start prototyping
What are bipolar plates?
Bipolar plates are a key component of proton exchange membrane and solid oxide fuel cells and electrolysers. They are machined with complex flow fields or channels that, when stacked, distribute gas and air, as well as conduct electrical current from one cell to the next.
Metallic bipolar plate manufacturing
Whilst stamping and hydroforming can be used to produce metallic bipolar plates, these processes can have limitations, such as compromising planarity (flatness) and introducing stresses and burrs.
Presswork tooling can also be slow, expensive and uneconomical to produce, especially during prototyping.
Chemical etching bipolar plates
Our chemical etching process removes metal simultaneously, meaning complex channels or flow fields can be etched on both sides of the plate at the same time without cost penalty.
Digital tooling, which is low-cost and quick to produce, can be adapted easily, and inexpensively to optimise designs.
This versatility enables designers to vary the size and shape of channels and incorporate headers, collectors and port features without additional cost.
Burr-free, stress-free and flat
Unlike bipolar plate stamping and hydroforming, chemical etching imparts no mechanical stress or burring which can compromise stack bonding and performance.
Benefits at a glance
Low-cost tooling and design iterations
Rapid prototyping in days
Burr-free, stress-free and flat
High channel accuracy
Widest range of metals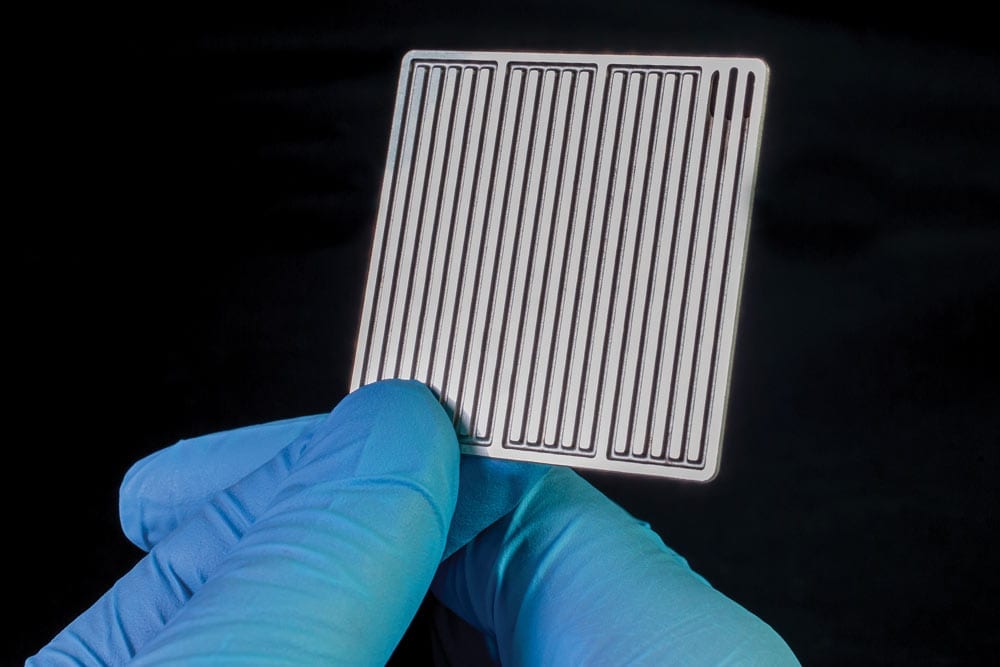 Typical Applications
Electrolysers for green hydrogen production
e-mobility
Fuel cell electric vehicles (FCEVs)
Stationary and portable power