Precision Micro is the world's leading perforated metal sheets supplier using etching technology.
We supply millions of custom perforated metal sheets, mesh and components each month to market-leading companies in the automotive, medical and aerospace industries.
Some of the mesh products we supply include:
Stainless steel automotive speaker grilles
Aluminium aircraft air intake grilles
Filtration sieves, coffee filters, filtration screens and more
Unlimited perforated metal sheet complexity – you only pay for the first hole
We use Photochemical etching extensively in the prototype to production and manufacture of custom perforated metal mesh sheets, as unlike conventional machining technologies it offers unlimited complexity without cost penalty.
Our photo-etched perforated metal sheets are manufactured in a single piece, making them  slimmer, cleaner, more accurate and have greater integrity.
Perforated sheets have traditionally been manufactured by punching regular flat sheets with a determined pattern based on the application required.
Where punch-perforated sheets are prone to distortion, chemically etched sheets are burr and stress-free, with zero material degradation.
The round hold perforation is the most popular type of perforated pattern, however we can etch to your specific requirements.
Perforated metal sheet materials
We can work from almost any metal to produce perforated sheet metals, including those considered hard to machine or highly non-corrosive.
Typical metals we supply include:
Stainless steel: used to produce perforated stainless steel sheets and more
Nickel and nickel alloy perforated sheet
Copper and copper alloy perforated sheet
Aluminium perforated sheet
See our full range of materials here. Looking for something specific?
Functionality inbuilt
As the chemical etching process removes metal simultaneously, multiple aperture geometries can be incorporated into perforated metal meshes, sheets and precision filtration components.
Far greater open areas are achievable than with woven meshes, with accuracy to ±0.025mm.
High perforated metal mesh aesthetic quality
Our photo-etched perforated sheets are 100% scratch-and blemish-free with engraved logos, legends and part numbers incorporated at no additional cost — ideal for decorative and architectural applications.
Quality-assured supply
We are industry accredited, enjoying approved supplier status to many of the global manufacturing concerns we supply.
Benefits at a glance
Unlimited complexity – you only pay for the first hole
Mesh sizes to 600mm x 1500mm
Low-cost tooling
Stress-and burr-free
Prototype to production
100% scratch-and blemish-free
Accuracy to ±0.025mm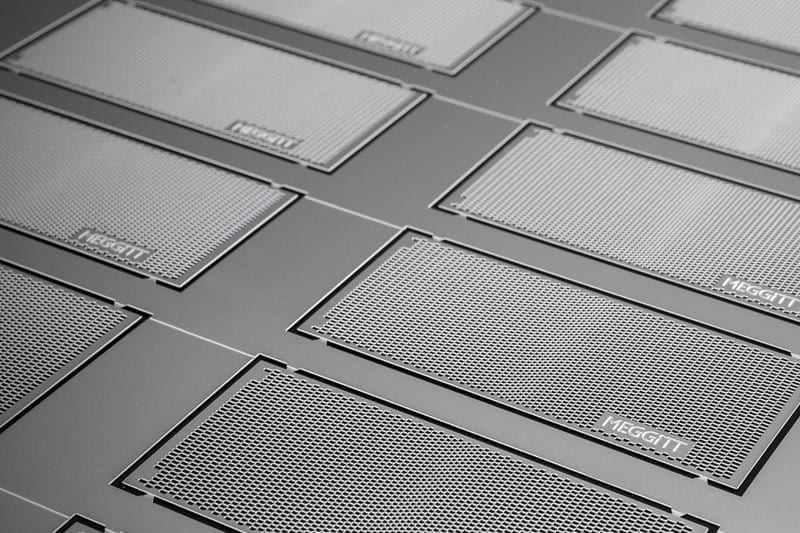 Typical Applications
Oil control valves
Air intake grilles
Water filtration