Photo etching is used extensively in manufacturing custom meshes, filters and sieves as unlike conventional machining technologies the process offers unlimited complexity – you only pay for the first hole.
Manufactured in a single piece, photo etched meshes are slimmer, cleaner and have greater integrity, making them more robust during handling. Where punch-perforated sheets are prone to distortion, photo etched mesh is burr and stress-free, with zero material degradation.
Photo etched mesh is burr-and stress-free, with zero material degradation
Functionality inbuilt
As the photo etching process removes metal simultaneously, multiple aperture geometries can be incorporated to control flow rates. Far greater open areas are achievable, with bar widths to 0.1mm.
Etched meshes do not exhibit straight or orthogonal walls and edge profiles, but a unique rounding effect which can be controlled to micron accuracy. This gives designers the flexibility to specify conical holes.
High aesthetic quality
As the surface of the metal being worked is protected during metal etching, components are 100% scratch-and blemish-free. High definition surface engraving of logos, legends and part numbers can be incorporated at no additional cost.
Materials
As a specialist in hard-to-machine metals, Precision Micro is well placed to supply meshes for a wide range of applications, including safety critical components requiring high levels of corrosion resistance or biocompatibility.
Repeatability
Photo etching is well suited to single or multiple piece parts. As one of the world's few production etching specialists, Precision Micro supplies millions of meshes, grids and filters each month to a wide range of high-tech engineering industries, including automotive, medical and aerospace.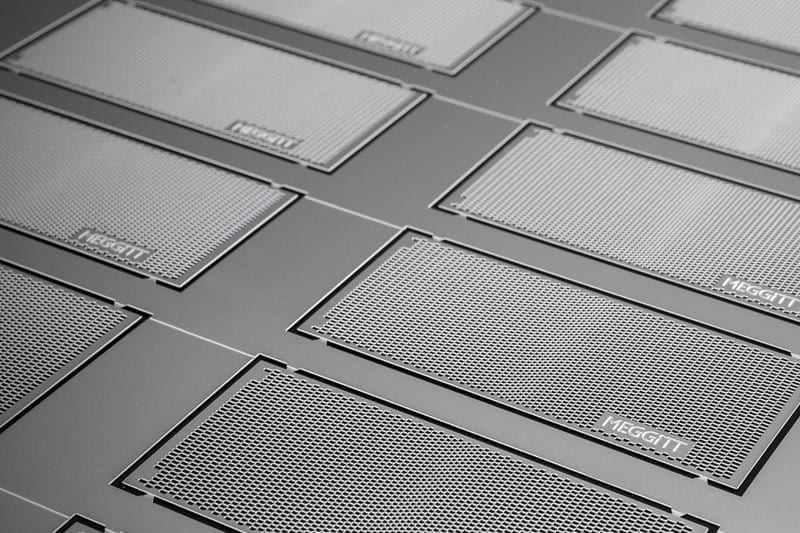 Typical Applications
Oil control valves
Air intake grilles
Water filtration