Precision Micro is the world's largest manufacturer of photo-etched metal speaker grilles and automotive interior trim products.
We supply millions of speaker grilles each year for marques including Mercedes C Class, Jaguar XJ and Rolls-Royce Wraith.
Our photochemical etching service offers complex speaker grille mesh patterns and high definition surface engraving more economically than stamping.
Low-cost prototyping
We use digital tooling, which gives designers the freedom to experiment without incurring expensive set-up or modification charges.
With no hard tooling necessary, interior trim products can make the transition from prototype to production in a matter of hours.
A sound approach: 100% scratch and blemish-free speaker grilles
Photo-etched speaker grilles
Metal mesh speaker grilles were once produced exclusively from thick, woven aluminium wire. Our photo etching process offers many aesthetic and functional advantages when manufacturing custom speaker grilles including:
High durability
Greater open area with finer apertures
High-definition logos at no added cost
Thinner, with superior rigidity
Openings at any size, shape or position at no added cost
Burr and stress-free to ±0.025mm accuracy
100% scratch and blemish-free
Dashboard inlays
Manufactured from 0.5mm-1mm thick aluminium, chemical etching can be used to surface engrave and emboss intricate, blemish-free tactile surfaces.
With etching, you pay by the sheet so there is no limit on design complexity.
As one of the few suppliers to offer sheets to 600mm x 1500mm in size, we guarantee an economical volume supply.
Etched treadplates
Unlike traditional pressed treadplates, we can incorporate sharp aperture and directional mesh patterns for backlighting.
We can also personalise treadplates with owners' names or signatures as special, one-off production runs on request.
Benefits at a glance
Unlimited complexity – you only pay for the first hole
Low-cost tooling and development
Largest production speaker grilles etching capacity globally
IATF-accredited
Accuracy to

±

0.025mm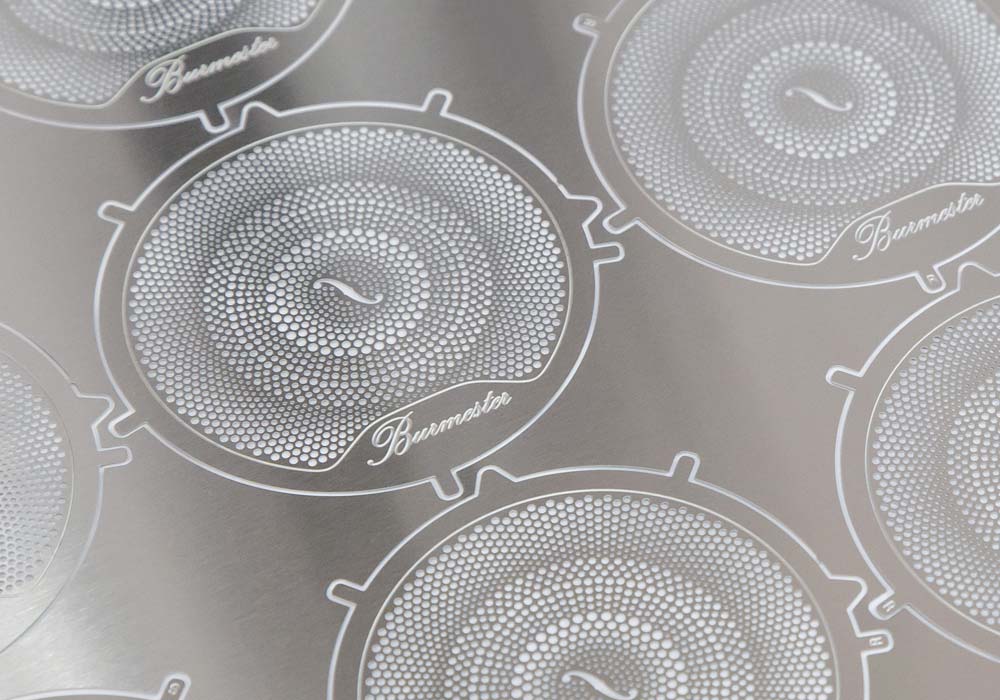 Typical Applications
Flat metal speaker grilles
Custom speaker grilles
Speaker grille mesh
Dashboard inlays
Treadplates