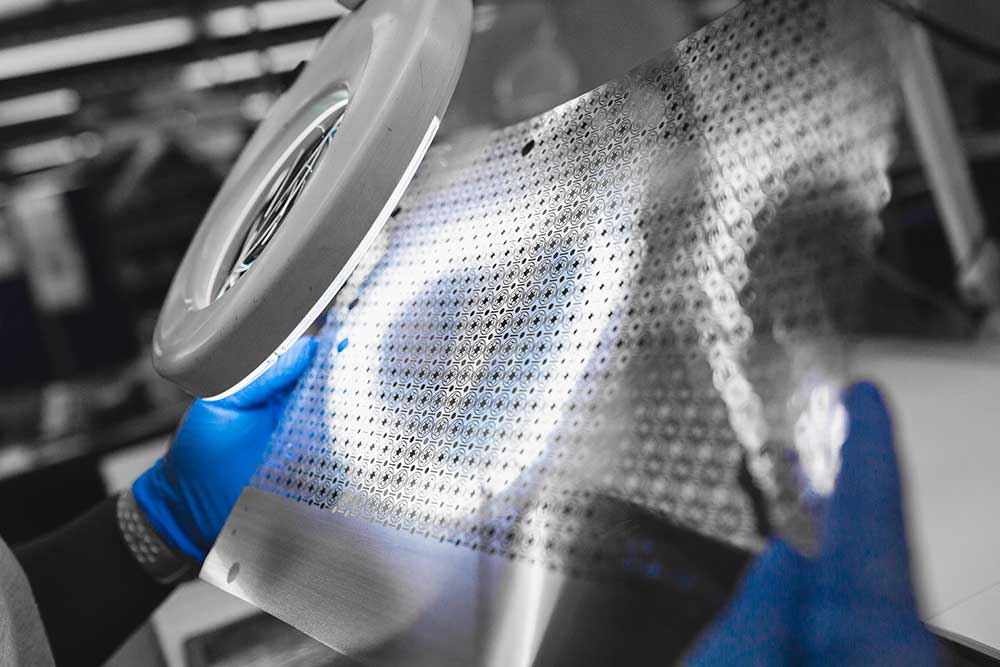 Benefits at a glance
Unlimited complexity – you only pay for the first hole
No expensive hard tooling required
Low-cost design iterations – fast
Burr and stress-free – metal properties unaffected
Lead-times in days, not months
Virtually any metal
Accuracy to ±0.025mm
What is chemical etching?
Chemical etching is a sheet metal machining process which uses chemical enchants to cut and shape complex, highly accurate metal components.
The chemical etching process
For feature dense, tight tolerance parts profiled from thin gauge metals to 1.5mm thick – including stainless steel, aluminium, nickel, brass, copper and titanium – chemical etching provides an economical alternative to stamping, punching, laser and waterjet cutting.
How it works
Chemical etching works by laminating sheet metal with a light-sensitive photoresist which is exposed with UV-light to transfer the CAD image of the component.
The areas of unexposed photoresist are removed (developed), then sprayed with etchant chemistry to accurately remove the unprotected material.
The remaining photoresist is removed (stripped) to reveal the final etched component.
Read more about how chemical etching works
Process benefits
The tooling for chemical etching is digital, meaning no expensive "hard" tooling is required. Digital tooling can be adapted and changed extremely quickly allowing for risk-free design optimisation without financial penalty.
With etching, no mechanical force or heat is used. This means that material properties are unaltered and etched components are free from stresses and burrs.
Also, as component features are machined simultaneously almost limitless part complexity is achievable, with accuracy to ±0.025mm.
Read the EUREKA! article: Chemical etching metal components is an efficient effective means of achieving complex designs
What metals can be etched?
Almost any metal can be etched, including those considered hard to machine or 'non-corrosive.' Typical materials include:
Nickel and nickel alloys
Copper and copper alloys
Other specialist metals including molybdenum and polyimide metallised film
We also work with customer supplied material on request.
View a full list of metals and grades
Precision Micro: The market-leading chemical etching company
Precision Micro etches more than 50 million high-precision metal components each year for major global manufacturing customers across multiple markets.
The relationship with our customers has been central to our success. By collaborating with us at every stage of the product development cycle, we can achieve the most cost-effective, timely and accurate outcomes to your design engineering challenges.
Here are a few reasons how
Unrivalled know-how – Precision Micro has pioneered chemical etching for over half a century
Proven capability – AS 9100, IATF 16949, ISO 13485, ISO 9001 and ISO 14001 accredited
Largest capacity – 44,000 sq ft state-of-the-art etching plant
Material know-how – hard-to-machine metals and dedicated titanium etching service
2,000+ metal variants – standard and specialist material types and grades
Global support – we have sales offices and partners in locations that enable us to respond quickly to demand
Added value – we offer a number of additional services including wire EDM, electropolishing, forming, finishing and plating