We offer a market-leading cranial implant etching service, producing flat, uniform cranial meshes, fixation plates, and the widest range of craniomaxillofacial implants.
Pre-contoured from medical grade titanium, cranial implants must be malleable enough to contour whilst remaining strong.
These attributes can be compromised by traditional machining technologies which introduce stresses and burrs.
Fast, reliable cranial implant mesh etching service
As chemical etching machines component features simultaneously, complex cranial implant mesh designs cost no more to produce than simple ones, with countersinks included at no additional cost.
Prototype to volume – fast
Using digital tooling, we manufacture titanium implant meshes quickly, adapt them at little cost, and have them production-ready in a matter of hours.
Accuracy
Chemical etching is an extremely clean and precise process.
Tightly controlled chemistry selectively removes metal to tolerances the quarter of a diameter of a human hair.
Materials and finishing
We etch all grades of titanium – including ASTM F67 – to 1mm thick.
Cranial implant meshes and plates can be anodised to colour-code their thickness and strength.
ISO 13485 accredited
Precision Micro is one of the only chemical etching companies accredited to ISO 13485.
We are the only ISO-approved European-based supplier to the medical devices sector.
Benefits at a glance
ISO 13485 accredited
Unlimited complexity – only pay for the first hole
Low cost tooling
Fast design iterations
Burr-and stress-free
Accuracy to

±

0.025mm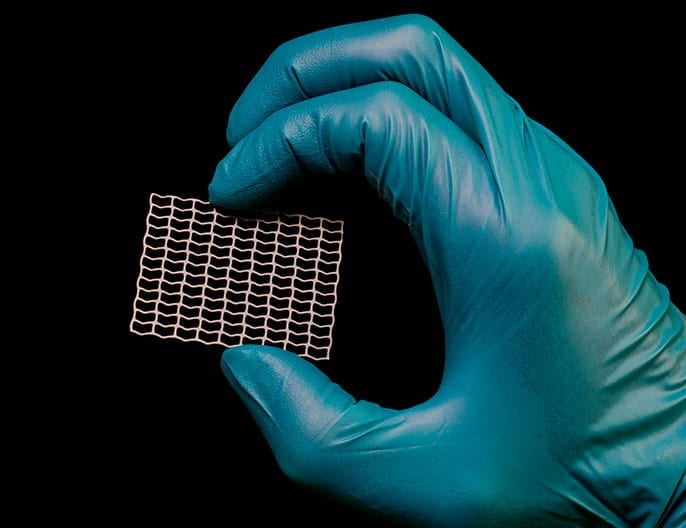 Typical Applications
Craniomaxillofacial implants
Cranial mesh plates
Dental membranes
Orbital plates
Cranial fixation plates