Precision Micro offers an ISO 13485 accredited chemical etching service for medical devices and instruments which require a combination of lightweight, strength, corrosion resistance and biocompatibility.
Craniomaxillofacial implants
Titanium cranial and dental implant meshes can be complex and require burr-free edges which traditional machining technologies find difficult to achieve.
Our photo-etched implants offer zero thermal distortion and burr-free openings.
Limitless aperture arrays and countersinks can be included at no additional cost, removing the need for additional machining.
Orthopaedic saw blades
Sharp-toothed bone saws are often profiled using laser cutting before grinding to achieve the required tooth offset.
By utilising the depth etching technique, we partnered with one of the world's leading medical OEMs to develop a unique tooth profile that removed the need for the secondary grinding operation.
Today, we supply 1,000s of sagittal and oscillating bone saws each month, each machined to ±0.005mm accuracy – impossible with laser cutting.
Hearing aid connectors and implants
Ultra-fine, stress-free titanium membranes and micro contact springs used in hearing aid microphones and PCBs can be etched burr-free to ±0.025mm accuracy using our chemical etching service.
Cardiac rhythm management battery grids
We manufacture intricate titanium anode and cathode battery current collector grids used in lithium batteries contained within implantable defibrillators, ensuring a reliable energy supply from a smaller footprint.
We also manufacture micro pacemaker EMI screening cans which feature an electrical insulator selectively applied to reduce arcing.
Medical electronics
A wide range of 2-D and 3-D electronics components, including lead frames, EMI/RFI shielding, connectors, contacts, biosensor springs and meshes, can all be photo-etched burr- and stress-free, with clean profiles and no heat-affect, making them ideally suited to the requirements of the medical sector.
Benefits at a glance
Europe's largest, fastest and most reliable titanium etching service
ISO 13485-accredited
Unlimited complexity – you only pay for the first hole
No hard tooling
Low-cost design iterations – fast
Burr- and stress-free
Accuracy to

±

0.025mm
Added value technologies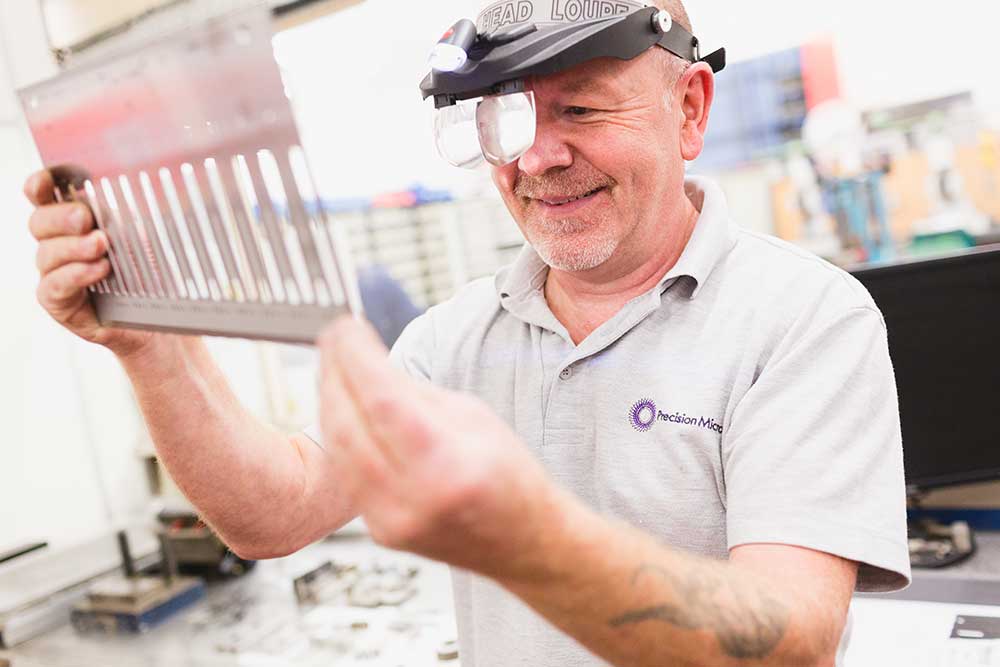 Typical Applications
Orthopaedic saw blades
Current collector grids for lithium-ion batteries