Precision Micro is a medical device manufacturer that offers ISO-accredited chemical etching services to enhance medical device and instrument engineering.
Our processes meet the industry's demands for lightweight, strong, corrosion-resistant, and biocompatible components.
Chemical etching is an advanced technology that does not result in stress or distortion. It also produces burr-free components with an accuracy of ±0.025mm, in thicknesses ranging from 0.010mm – 1.5mm.
Our digital tooling allows for efficient prototype design adaptation with minimal cost changes and quick production, ready in hours instead of days like traditional hard tooling.
Precision engineering for medical devices
Orthopaedic saw blades
Sharp-toothed bone saws are often profiled using laser cutting before grinding to achieve the required tooth offset.
By utilising the depth etching technique, we partnered with one of the world's leading medical OEMs to develop a unique tooth profile that removed the need for the secondary grinding operation.
Today, we supply 1,000s of sagittal and oscillating bone saws each month, each machined to ±0.005mm accuracy – impossible with laser cutting but made possible with our chemical etching process.
Hearing aid connectors and implants
Using our chemical etching service, ultra-fine, stress-free membranes and micro contact springs used in hearing aid microphones and PCBs can be etched burr-free to ±0.025mm accuracy.
Cardiac rhythm management battery grids
We manufacture intricate anode and cathode battery current collector grids used in lithium batteries contained within implantable defibrillators, ensuring a reliable energy supply from a smaller footprint.
We also manufacture micro medical components such as pacemaker EMI screening cans which feature an electrical insulator selectively applied to reduce arcing.
Medical electronics
A wide range of 2-D and 3-D electronics components, including lead frames, EMI/RFI shielding, connectors, contacts, biosensor springs and meshes, can all be photo-etched burr- and stress-free, with clean profiles and no heat-affect, making them ideally suited to the requirements of the medical sector.
Precision Micro is the company to trust when it comes to precision engineering for medical devices – with cost-effective production and short lead times.
We are market leaders in the production and development of chemical etching with long-standing partnerships with companies around the world. Get in touch with our team today to discuss your requirements.
Benefits at a glance
Unlimited complexity – you only pay for the first hole
No hard tooling
Low-cost design iterations – fast
Burr- and stress-free
Accuracy to

±

0.025mm
Added value technologies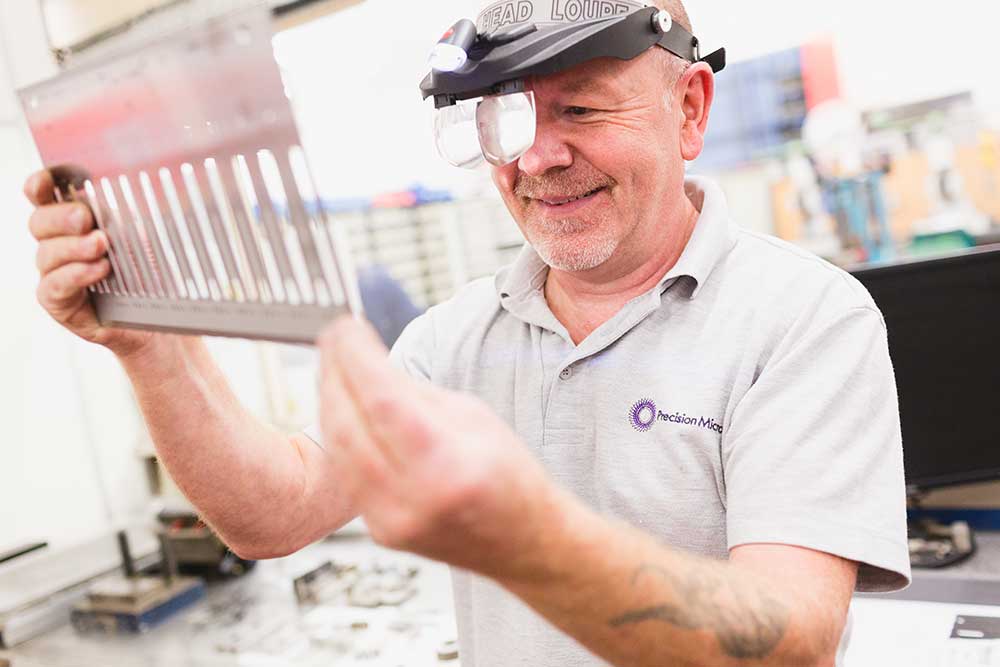 Typical Applications
Orthopaedic saw blades
Current collector grids for lithium-ion batteries