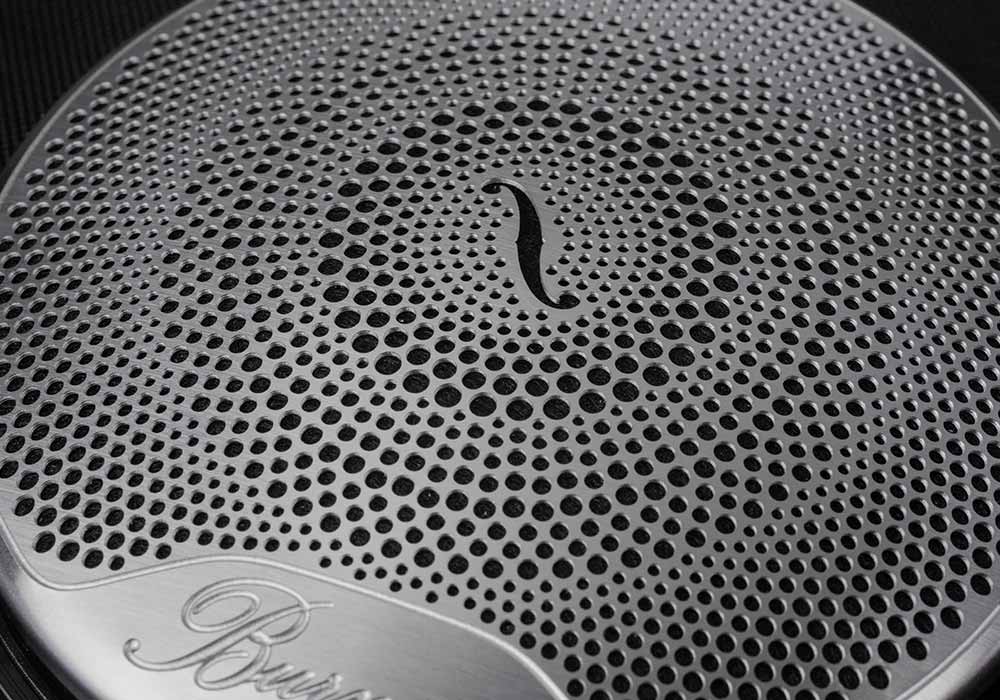 Precision engineering often focuses on the ability to manufacture reliably at smaller and smaller tolerances in a repeatable and efficient way.
However, when not chasing strict micron tolerances, but where quality standards are critical, photo etching is again a go-to solution, especially in the area of detailed and aesthetically critical automotive interiors.
Precision Micro, Europe's leading photo etching specialist, has had a long-standing supply partnership with automotive OEMs and tier 1 manufacturers, most recently producing speaker grilles for prestige nameplates including Jaguars XJ model and Mercedes' C Class to name but a few. The photo-etching process lends itself to such applications allowing for a series of complex designs, mesh patterns, and logos to be fabricated simultaneously, in a single machining operation. The process also boasts burr-free openings to micron tolerances and high definition surface engraving. The ability to change grille patterns with minimal tooling costs is a further benefit during the design and development phase.
Custom speaker grilles are just one of the ways that photo-etching can give automotive interiors engineers the freedom to explore new design avenues. Today, Precision Micro is receiving enquiries from a host of automotive OEMs and tier one suppliers looking not only at speaker grille applications, but also the manufacture of tactile facias (and recently placing heating elements in such facias), steering and gear knob inlays, and dials. It is a priority for car manufacturers to optimise and enhance the aesthetics of their car interiors, and individualise the driver and passenger experience. Photo etching helps to achieve such objectives.
Following the early success of the Jaguar Land Rover XJ project, Precision Micro continues to work closely with internationally respected automotive solutions company Vestatec to explore new interior trim possibilities.
With car manufacturers seeking to achieve and sustain competitive differentiation for their vehicles, Vestatec uses Precision Micro to photo-etch not only bespoke speaker grilles to replace those traditionally produced from pre-perforated sheet materials, but also in the development of innovative lighting products, which allow intricate designs, personalisation and model nomenclature.
Increasingly, automotive OEMs and suppliers to these OEMs are discovering that photo-etching is able to produce perforated patterns that are not achievable using traditional methods. This opens up an array of bespoke high-quality design possibilities that were previously impossible or limited by cost.
As a demonstration of the precision, versatility, and aesthetic qualities associated with photo etching, automotive interiors showcase the technology extremely well. In addition, it demonstrates that photo etching's unique characteristics and abilities are able to remove restrictions on designers and therefore stimulate product optimisation and innovation.