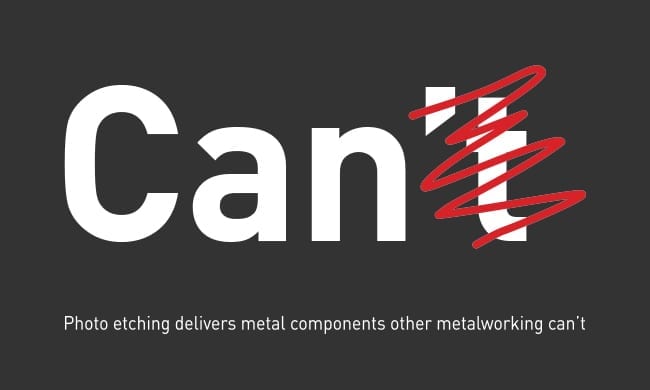 Benefits at a glance
Unlimited complexity – you only pay for the first hole
No expensive hard tooling required
Low-cost design iterations – fast
Burr-and stress-free – metal temper and magnetic properties unaffected
Lead-times in days, not months
Virtually any metal
Accuracy to ±0.025mm
Photo etching, also known as chemical etching or metal etching, is a highly precise, tightly controlled corrosion process used to produce complex metal components with very fine detail.
Why use photo etching?
The photo etching process offers a cost-effective alternative to stamping, punching, laser and waterjet cutting when machining precision components from thin gauge metals – up to 1.5mm thick – including stainless steel, nickel and nickel alloys, aluminium, copper and copper alloys and hard-to-machine metals such as titanium.
When component integrity is critical, photo etching is often the only suitable metal machining technology as metal temper and magnetic properties are unaffected.
Precision Micro and photo etching
Precision Micro has been at the cutting edge of etching technology for over half a century. By working in partnership with our customers, we create highly innovative solutions to a wide range of engineering challenges. That is why Precision Micro has won a reputation as the industry innovator, trusted to deliver by major international companies in over 30 countries worldwide.
Why partner with Precision Micro?
Unrivalled know-how

– Precision Micro has pioneered etching technology for over half a century

Proven capability

– AS 9100, IATF 16949, ISO 9001 and ISO 14001 accredited

Largest capacity

– 44,000 sq ft state-of-the-art photo etching plant

Material know-how

– we specialise in etching hard-to-machine metals

2,000+ metal variants

– standard and specialist material types and
grades

Global support

– we have sales offices and partners in locations that enable us to respond quickly to demand

Added value

– we offer a number of additional services including wire EDM, electropolishing, forming, finishing and plating
Well invested – backed by Lloyds Development Capital
Have a component you would like to discuss?
Talk to an engineer       Request a quotation