As a production stainless steel etching specialist, we supply high-tech companies with more than two million steel and stainless steel components each month, making us one of the world's largest chemical etching companies.
What stainless steels can be etched?
The stainless steel etching process uses a digital photoresist mask and ferric chloride, a safe to use, recyclable etchant chemistry, to accurately machine complex, high precision components from any grade of stainless steel.
We chemically etch ferritic/martensitic, austenitic, duplex and precipitation hardened stainless steel grades from stock.
We also machine specialist grades, including Sandvik Chromflex strip steels, and work with customer-supplied steels.
Suitable steel and stainless steel grades
| | |
| --- | --- |
| Low carbon (mild) steel | All grades |
| Electrical steel | Transil |
| Maraging steel | All grades |
| Sandvik strip steel | Chromflex (7C27Mo2, 13C26, 12C27, 6C27), Hiflex |
| Uddeholmstrip flapper valve steel | 20C, 716 |
| High carbon (spring) steel | All grades |
| Stainless steel | Austenitic (300 series), ferritic/martensitic (400 series), precipitation hardened (17-4, 17-7), duplex, super duplex |
What are the benefits of chemical etching stainless steel?
Low set-up costs and fast lead times make etching economical in batch sizes of one to multiple millions.
The tooling for etching stainless steel is digital, low-cost and can be adapted quickly
No heat or force is used when etching stainless steel, meaning steel properties and characteristics remain unaltered and parts are free from stresses and burrs.
As component features are etched at the same time there is almost almost limitless part complexity
Typical components and applications
Safety-critical springs and flexures used in satellites, ABS braking, biosensors and fuel injection can now flex millions of times because chemical etching does not alter fatigue strength, recoil and flatness of spring steel.
Complex, corrosion-resistant micro-filters used in showerheads and insect meshes can be manufactured in economical production volumes as chemical etching only charges for the first hole.
Chemical etching does not alter the surface finish of stainless steel and is specified for premium automotive interior trim applications including speaker grilles, tread plates, badges and inlays.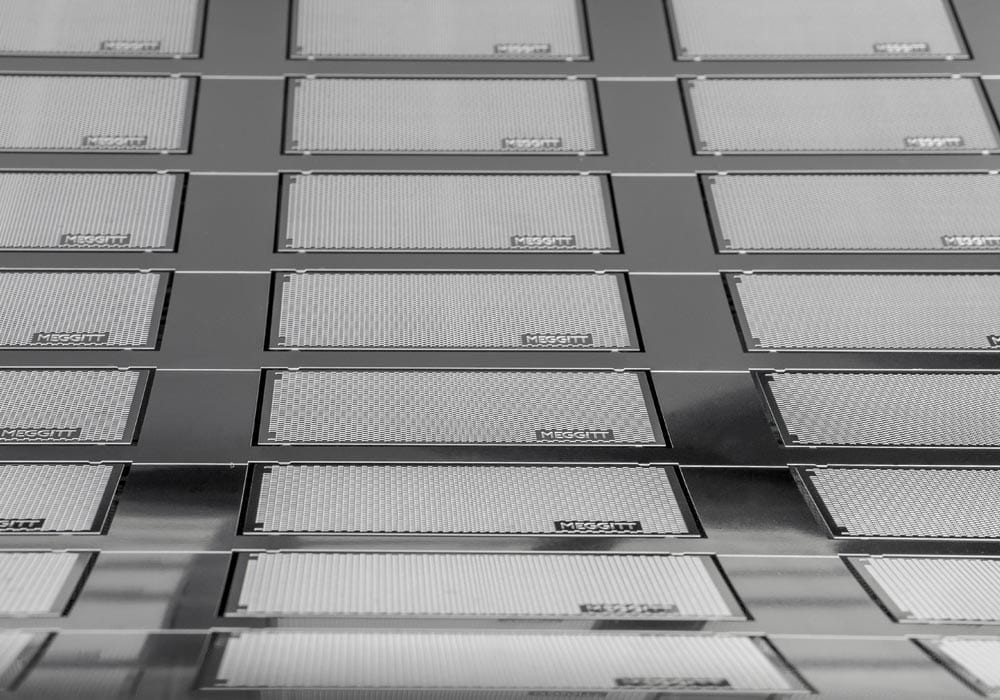 Materials
Mild steel
Electrical steel
Maraging steel
Sandvik strip steel
Uddeholmstrip flapper valve steel
High carbon (spring) steel
Austenitic (300 series)
Ferritic/martensitic (400 series)
Precipitation hardened (17-4, 17-7)
Duplex, super duplex