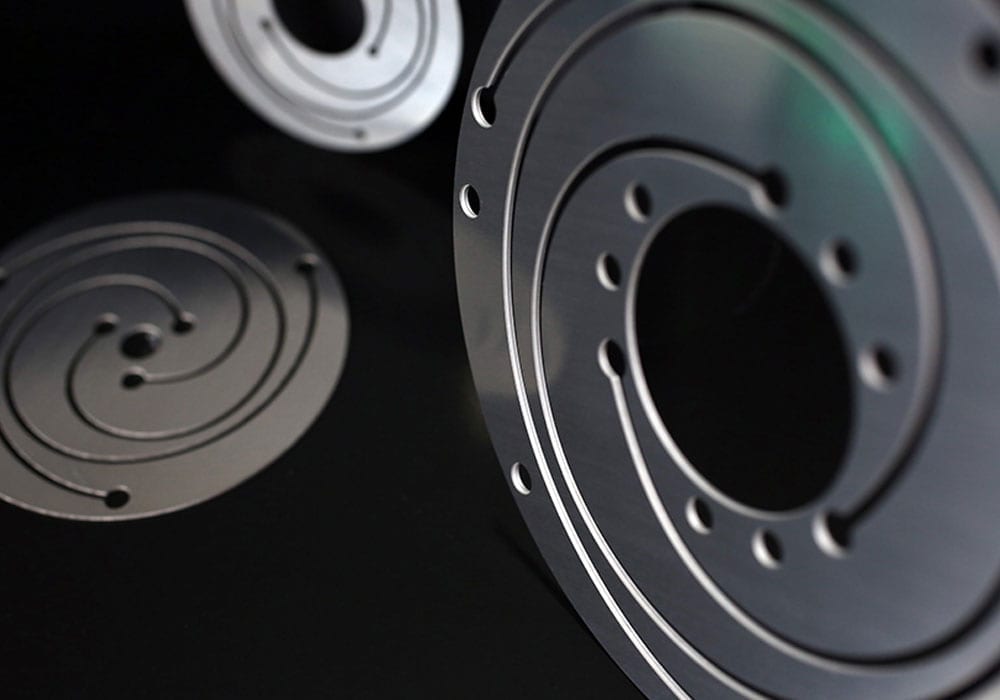 Precision Micro Produces Critical Springs for Thales Cryogenics
Abstract
When manufacturing parts for critical applications, it is vital that the process chosen is not only cost-effective and allows adherence to time-to-market objectives, but is also able to adhere to extremely tight tolerances and produces accurate parts in volume with minimal wastage. Photochemical etching company Precision Micro was chosen by Thales Cryogenics– one of the world's largest suppliers of electronic devices and equipment – for such an exacting manufacturing challenge, the production of flexures to be used for a cryogenic cooler in a satellite. This article looks at the nature of the photochemical etching process, and why it is often chosen by manufacturers of precision metal parts due to its ability to produce feature-rich, complex parts while retaining material integrity. The specifics of the process by which Precision Micro produced the flexures for Thales' satellite cryogenic cooler are used to illuminate the nature of photochemical etching and its applicability across a wide range of industrial applications.
Photochemical Etching — the basics
Despite the fact that photochemical etching has been a machining technology for over fifty years, it is still a relatively low profile process, and its practical use in a variety of manufacturing scenarios with an ever-broadening number of materials is one of industry's best-kept secrets. To remain competitive and to stimulate innovation in the production of micro metal parts, it is vital that design engineers are made aware of the nature of this versatile technology, and the opportunities that it presents when compared with better-known and more traditional metal-working technologies.
Commonly misrepresented as merely prototyping technology, photochemical etching is in fact a versatile and increasingly sophisticated metal machining technology, with an ability to mass manufacture complex and feature-rich metal parts and components. Using photo-resist and etchants to chemically machine selected areas accurately, the process is characterised by retention of material properties, burr free and stress free parts with clean profiles, and no heat-affected zones.
Coupled with the fact that photochemical etching uses easily re-iterated and low-cost digital tooling, it provides a cost-effective, highly accurate, and speedy manufacturing alternative to traditional machining technologies such as metal stamping, pressing, CNC punching, and laser and water-jet cutting.
Traditional machining technologies can produce less than perfect effects in metal at the cut line, often deforming the material being worked, and leaving burrs, heat-affected zones, and recast layers. In addition, they struggle to meet the detail resolution required in the ever smaller, more complex, and more precise metal parts that many industry sectors require. There are instances – typically when an application requires multiple millions of parts and absolute precision is not a priority – when these traditional processes may be the most cost-effective. However, if manufacturers require runs up to a few million, and precision is key, then photochemical etching with its lower tooling costs is often by far the most economic and accurate process available.
Another factor to consider in process selection is the thickness of the material to be worked. Traditional processes tend to struggle when applied to the working of thin metals, stamping and punching being inappropriate in many instances, and laser and water cutting causing disproportionate and unacceptable degrees of heat distortion and material shredding respectively. While photochemical etching can be used on a variety of metal thicknesses, one key attribute is that it can also work on ultra-thin sheet metal, even as low as 10 micron foil.
It is in the manufacture of intensely complex and feature-rich precision parts that photochemical etching really finds its perfect application, as it is agnostic when it comes to shapes and unusual features in products to be manufactured. The nature of the process means that feature complexity is not an issue, and in many instances, photochemical etching is the only manufacturing process that can accommodate certain part geometries.
Active in the field for many decades, Precision Micro is constantly pushing the boundaries of what is possible in the process, making advances in etchant chemistry, and developing the process to embrace more and more metals, and enhance accuracy for its customers. It is this pre-eminence that led to world-renowned electronic systems company Thales to partner with Precision Micro in the manufacture of flexures required for use in cryogenic coolers for long life cooler applications including those used in space.
Flexures for a Cryogenic Cooler
Thales Cryogenics B.V was founded as a separate company in 2000 and is able to trace its roots back to the late-1940s when it was a department within the high-tech equipment supplier Signaal USFA.
Today, Thales Cryogenics is a leading developer and manufacturer of specialised cryogenic equipment, with offices and manufacturing facilities located in Eindhoven, Netherlands. Its expertise lies in offering – from design to manufacture – the most comprehensive range of cryogenic products for military, civil, or space applications. The company's particular strengths include the translation of new concepts and techniques into custom-built working hardware, with special emphasis on prototype-building, series production, pre-production engineering, and the development of special-purpose tooling and test equipment.
For a leader in the field with a world-class reputation to maintain, Thales Cryogenics chooses its partner suppliers extremely carefully, and when looking for a reliable and cost-effective manufacturer for a particularly critical flexure component for a satellite cryogenic cooler, it selected Precision Micro, established as the leading photochemical etching supplier in Europe.
The critical nature of this component was key in choosing Precision Micro and the photochemical etching process as the preferred manufacturing method. There is no more extreme environment than space, which demands that parts and components not only work as intended, but do so over prolonged periods of time.
As a manufacturing process, photochemical etching has one key attribute when it comes to part integrity, and that is that during the production process, it does not affect or degrade material properties.
The specific flexure used in the cryogenic cooler has been made since the 1990s, and initially, production of the flexures via machining and wiring were assessed, but these processes left small burrs on the parts and recast layers that would compromise performance. The photochemical etching process, as previously mentioned, is characterised by the fact that it induces no tension in the material being worked, and leaves no burrs.
While cost is an ever-present concern when assessing alternative manufacturing technologies, in niche and highly critical part manufacture like the flexures for the satellite application, its importance is matched by the location and use of a process that guarantees accuracy, repeatability, and conformance with extremely exacting tolerances and maintenance of material integrity.
Such considerations were of especial concern for Thales Cryogenics as the flexure component that was produced by Precision Micro was essential to the reliability and system life-time of the company's LSF and LPT coolers, which Thales sell to a variety of customers that use them to cool high-sensitivity sensor systems. Examples of these applications include gamma ray detectors, detectors for thermal night vision, and infrared spectroscopy detectors for use in satellites for observation of the earth. For all customers, long product life and high reliability are essential, as replacing the coolers in such instances is at best costly, and when a satellite is in space, at worst impossible.
As these linear coolers contain pistons moving back an forth at around 50 Hz, mounting them on a flexure spring with a radial stiffness and a low axial stiffness is essential for contact-free operation, which ensures that little or no wear occurs during use. Thales Cryogenics found that flexures made using the photochemical etching process met these demanding requirements and retained their properties even after many years of continuous operation.
As Thales Cryogenics assessed the nature of the flexure required, it looked at a number of manufacturing processes and suppliers before choosing Precision Micro and photochemical etching. Beyond Precision Micro's reputation as one of the world's leading photochemical etching suppliers, the fact that the company was purchased by global engineering group Meggitt plc in 2012 (the strapline of which is "Smart Engineering for Extreme Environments") reinforced the symbiosis with Thales Cryogenics.
The purity of the metal used in the flexure, however, was ultimately the key to supplier selection, as it was vital that potential fracture sites in the grain were eliminated, and this was only achievable with the consistency required through the use of chemical etching and Precision Micro's expertise.
Conclusion
Photochemical etching is precisely suited to applications where the requirement is for small, precise, complex, feature-rich parts with no burrs, and no stress related changes in the metal which can occur using alternative metal forming technologies. Photochemical etching's use of digital tooling ensures that multiple tooling iterations that are often necessary to perfect the precise nature of such intricate metal parts are not costly in terms of time or money. In addition, the consistency of the process means no time-consuming and potentially costly retooling and revalidation are necessary. In the case of the flexure produced for Thales Cryogenics satellite cooler, all these attributes combined to make photochemical etching the manufacturing process of choice for this especially critical and exacting application.