Lead frames are utilised in assembly of semiconductor devices and are a thin layer of metal that connects the wiring from tiny electrical terminals on the surface to the large-scale circuitry on electrical devices and circuit boards.
Whilst stamping has traditionally been the go-to technology for lead frame manufacture, its high set-up costs, long lead times and lack of flexibility means it is often uneconomical for scalable supply.
Our market-leading lead frame chemical etching service has the flexibility to meet the fast-paced nature of the electronics industry, and the precision required to manufacture ultra-fine pitch, high pin count lead frames more cost-effectively than stamping. All lead frames can be customised based on the design and application so it meets the required electrical and thermal properties required.
Low set-up costs
Our photo-etch tooling is digital, so there is no need to cut expensive and difficult to adapt steel moulds.
This means that lead frames can be reproduced with zero tool wear, ensuring that the first and last produced are identical.
Prototype to volume – fast
Stamping requires substantial investment in tooling, which can take from six to ten months to produce. Lead times using photo-etch tooling are around 90% quicker than stamping.
Precision features and accuracy
Every lead frame produced is of a high quality without defects such as stresses or burrs, because this can cause the reliability of chips to be compromised.
We can produce lead frames with features as small as 0.025mm, and with accuracy to ±0.025mm – ideal for high lead/pin count, ultra-fine pitch lead frames.
Unlimited design complexity
As etching produces component features simultaneously, complex, high-density designs cost no more to produce than simple ones.
Materials and finishing
We typically etch lead frames from copper or iron-nickel alloys, such as alloy 42, which demonstrate very low thermal expansion.
We also offer tin, silver and gold plating to improve wire bond attachment to the semiconductor die.
Benefits at a glance
Low-cost tooling/design iterations
High-density lead frames cost no more to produce than simple designs
Flat, stress- and burr-free
Short lead times
Scalable volumes
Accuracy to

±

0.025mm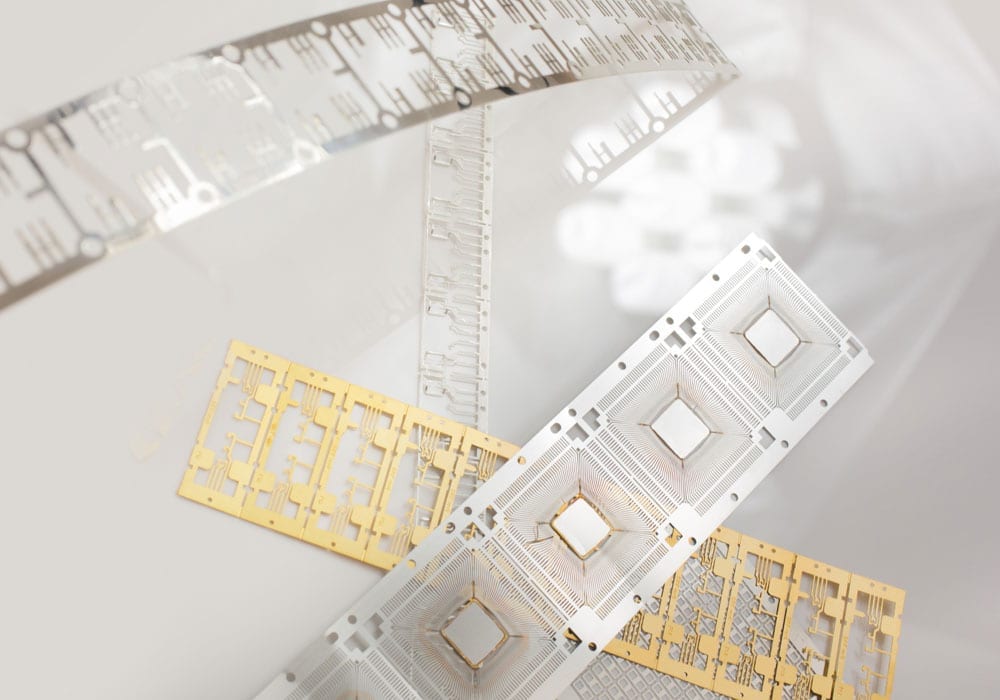 Processes
Materials
Copper and copper alloys
Iron-nickel alloys